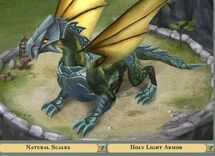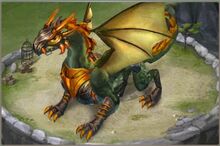 Armor & scales can be won through Fortuna's Chance, in-game events, and tournaments. However, some are seasonal items; therefore, only available during a certain time-frame (such as the Zombie scales). They will change specific attributes of the dragon that they are equipped on.
During some contests, you will receive a Custom Armor or Scale Chest, which includes a random piece of Armor or Scales. If you open it and you already own that particular item, it will be replaced with a Bounce speed-up. You cannot have duplicate Armors or Scales.
When obtained, you will first need to activate the item by going to your Inventory, and click the Arsenal tab. Bonuses are currently not shown in Battle Reports. you cant earn scales
Below are in-game shots of all current scales and armor types.
ATTRIBUTES
DRAGON SCALES

Emerald Scales:

No bonus (Basic)

Golden Scales:

Ranged +100k
Melee +250k
Only Great Dragon

Silver Scales:

Speed +250
Load +5ml
Only Great Dragon

Copper Scales:

Load +1ml
Only Great Dragon

Cobalt Scales:

Life +250k
Only Great Dragon

Crimson Scales:

Melee +50k
Only Great Dragon

Amethyst Scales:

Speed +50
Only Great Dragon

Zombie Scales:

Melee +300k
Only Great Dragon




Jade Scales:

Ranged +50k
Only Great Dragon




Smoke Scales:

Ranged +100k
Only Great Dragon

Lunar Scales:

Ranged +250k
Life +500k
Only Great Dragon

Shadow Scales:

Melee +250k
Life +500k
Only Great Dragon

Ruby Scales:

Melee +500k
Speed +100
Only Great Dragon

Winter Scales:

Ranged +350k
Life +1ml
Only Great Dragon

Victory Scales:

Melee +450k
Life +1.5ml
Only Great Dragon

Triumphant Scales:Melee +900k

Life +3M

Great Dragon Only

Holy Scales:

(Anti-Wraith)


Wraith Opponent:
-10% life
-10% melee
-5% ranged

Great Dragon:
+100k ranged
Great Dragon only

Shadow Killer Scales

Opponent Wraith Dragon:
Ranged -10%
Life -30%
Melee -15%

Great Dragon:
Ranged +150,000

Scales of Retribution

Opponent Wraith Dragon:

Ranged -20%

Life -40%

Melee -20%

Great Dragon:

Ranged +200.000
---
ATTRIBUTES
DRAGON ARMOR

Steel Armor:

No bonus

Found at level 5+ Anthropus Camps

Silver Armor:

Speed + 250
Load+5kk
Great Dragon only


Shadow Armor:

Melee +250k
Life +500k
Great Dragon only

Cobalt Armor:

Life +250k
Great Dragon only

Crimson Armor:

Melee +50k
Great Dragon only

Ruby Armor:

Speed +100
Melee +500k
Great Dragon only

Chrono Armor:

Ranged +200k
Great Dragon only

Lunar Armor:

Ranged +250k
Life +500k
Great Dragon only

Gold Armor:

Ranged +100k
Melee +250k
Great Dragon only

Winter Armor:

Ranged +350k
Life +1ml
Great Dragon only

Harvest Armor:

Melee +350k
Life +1ml
Great Dragon only

Hydro Armor:

Life +2ml
Great Dragon only

Victory Armor:

Melee +450k
Life +1.5ml
Great Dragon only

Granite Armor:

Life +2ml
Defense +10k
Great Dragon only

Great Dragon Top Hat:

Melee +700k
Speed +300
Great Dragon only

This armor disables all scales.

Flame Armor:

Melee +350k
Ranged +350k
Great Dragon only

Zombie Armor:

Melee +300k
Great Dragon only

Cotton Armor:

+100k ranged
+500 speed
Great Dragon only

Holy Armor (Anti-Wraith)

-25% life
-10% melee
-5% range
Great Dragon only

Shadowkiller Armor Great Dragon: +150k Melee Wraith Dragon Opponent: -15% melee attack
-10% ranged attack
-45% life
Great Dragon only
http://postimg.org/image/nylf712wb/
ATTRIBUTES
WATER DRAGON
Frostbite Scales:

Color Blue Ranged +100k
Defense +300k

Water Dragon Only

Frostbite Armor: Life 200k
Melee +250k
Water Dragon Only

Glade Scale: 
Life 800k
Ranged 1.25M 
Water Dragon Only


Glade Armor: 
Defence 800k
Melee 1.25M
Water Dragon Only
ATTRIBUTES
STONE DRAGON
Caustic Scales:Load +3Mil

Life +3Mil

Stone Dragon only

Coral Scales:

Defense +800k 
Melee +1M 
Stone Dragon only

Crystal Scales:

Ranged +250k
Life +300k
Stone Dragon only

Astral Armor:Speed +750

Ranged +1M

Stone Dragon only

Coral Armor:

+1.5 mil life
+900k melee
Stone Dragon only

Crystal Armor:

Melee +300k   Defense +200k

Stone Dragon only
ATTRIBUTES
FIRE DRAGON

Lightning Vein Scales:

Life +250k
Fire Dragon only

Lightning Vein Armor:

Ranged +500k
Defense +100k
Fire Dragon only

Demon Wing Armor:

Ranged +1mil

Life +850k

Fire Dragon Only

Demon Wing Scales:

Defense +800k

Melee +1.2mil

Fire Dragon Only
ATTRIBUTES
WIND DRAGON

Stormveil Armor:

Ranged +300k
Range +250
Wind Dragon Only

Stormveil Scales:

Ranged +100k
Defense +300k
Wind Dragon Only

Jaguar Armor:

Ranged +1m
Melee +1m
Wind Dragon Only

Jaguar Scales:

Ranged +1m

Range +400k

Wind Dragon Only
ATTRIBUTES
FROST DRAGON

Obsidian Ice Scales:

Life +1.5m
Melee +450k
Frost Dragon Only

Obsidian Ice Armor:

Defense +500k

Ranged

+400k

Frost Dragon Only
ATTRIBUTES
MEPHITIC SERPENT

Venom Spine Armor:

Defense +400k
Life +1M
Mephitic Serpent Only

Vemon Spine Scales:

Melee +500k

Life +1M

Mephitic Serpent Only

Megalodon Armor:Melee +1.25M

Life +2M

Mephitic Serpent only

Megalodon Scales:Speed +750

Defense +1.25M

Mephitic Serpent only
ATTRIBUTES
AMBER CREST DRAGON

Imperial Bengal Armor:

Life +1m

Defense +500k







Amber Crest Dragon Only

Imperial Bengal Scales

Ranged +500k

Life +1M
ATTRIBUTES
CHRONO DRAGON

Shockwave Armor:

Color:black

1.2m Ranged

1.2m Melee

1.5m Life

Dragon Bone Armor:

Life +2mil

Ranged +2mil
ATTRIBUTES
STEELSHARD DRAGON

Golden Steelshar Scales

Melee +300k

Life +300k

Golden Steelshar Armor

+250K Ranged attack

+300k Health

Iron ore Steelhard Armor:

+1m Health

+1m Ranged Attack