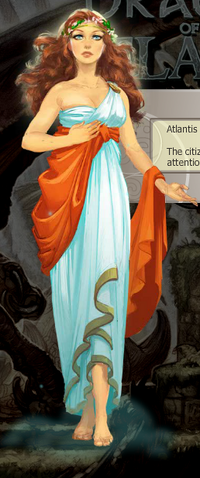 Casandra is the Trojan princess and prophetess, the daughter of King Priam and Queen Hecuba of Troy.
In Atlantis she communicates us about upcoming events. Her image resides in the bottom right corner of the screen. You can click on her image at any time during the game to review the promotions, tournaments or other events.
However, at the moment she has been replaced with a simple scrolling bar of text that opens into an easy-to-view window.
She also sends special messages to your inbox, some times about events.
Ad blocker interference detected!
Wikia is a free-to-use site that makes money from advertising. We have a modified experience for viewers using ad blockers

Wikia is not accessible if you've made further modifications. Remove the custom ad blocker rule(s) and the page will load as expected.