Home
Talk

49
243pages on
this wiki
Welcome To The Official Dragons of Atlantis Wiki!
A fan-based Dragons of Atlantis wiki that anyone can edit.
Have a question about Dragons of Atlantis? Check out our
FAQs
page first!
Dragons of Atlantis is a war-strategy game published by Kabam found on Facebook, Kongregate, Yahoo! Games, Hyves and Kabam.com.

Last month we ran a poll to find out which editing suite you people of the Wiki prefer. By a staggering 79/116 people who voted (68%) you voted that you prefered the old editing suite.

So I am happy to announce that we are switching back on the old editor to replace the newer version which is (currently) not as useful. (Please note that the Visual Editor is still able to be used if you prefer it - just click on the arrow next to the edit button a…

Read more >

Hey guys,

So, last month we ran a Poll asking what you thought about moving the Contents section of the Homepage to the Navigation Bar. The Poll ran for a month, and you told us that the majority didn't care. So, I'm pleased to announce that we will be moving the contents to the Navigation Bar (going with your second choice, and my preference). However, this will take a while and may not be completed all at once, so please bear with us!

Thanks! 

Read more >

Hey guys,

Just wanted to let you know that I will be changing the themes for the Wiki, so they tie in more to the game and the games' colours. So you'll be seeing a lot more blue lol :)

Read more >
---
Hey guys,

yesterday (or very early this morning) it was announced that there is a new Outpost and Dragon (The Colossus) which will hit our games on the 25th June (in 5 days time). At the moment not much is known about the outpost - but you will be able to get your hands on it by collecting 30 Feathers. There are currently competitions in which to win items for the new Outpost. 

Keep checking the Wiki for updates to this!

Read more >
---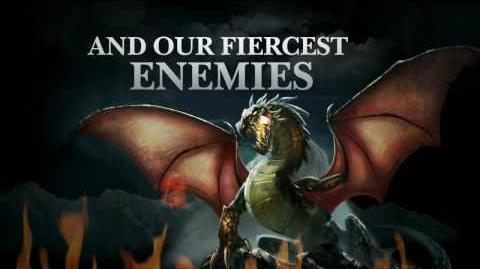 How You Can Help
---
Welcome to the Official DoA Wiki, a fan-based Wiki that anyone can edit! We are constantly expanding, so need all the help we can get! You can help by joining us or getting editing help. Here's What Currently Needs Doing:
You can also help us by creating a page.
Important Links
---
Monthly Poll
---
Would You Like To See More Community Events? (Like These Poll's)