Hot Keys are keyboard keys that will do certain things in the game.
Kabam.com added Hot Keys that can be used to go to a window faster than clicking on it. For some players this can be very useful. The list below shows all of the Hot Keys.
Note: Hot Keys only work when clicking somewhere in the game and not when chatting in chat.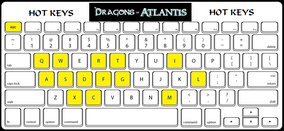 | Hot key | Toggles Open/Close |
| --- | --- |
| Q | Quest window |
| W | Wall window |
| E | Empire/Outpost/Wilderness window |
| R | Research (Science Center) window |
| T | Train window |
| I | Message (Inbox) window |
| S | Shop window |
| D | Dragons Keep window |
| F | Switches to the Field |
| G | Generals window |
| H | Hephaestus' Forge |
| L | Leaderboard window (Even without the Leaderboard button!) |
| X | Attack window |
| C | Switches to your City/Outpost |
| B | Sanctuary |
| M | Switches to the Map |
| Esc | Close/open windows |
| A | Alliance window (Even without the Alliance button!) |

Page last updated: 2016-10-25 23:32 (UTC)