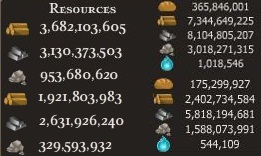 Farming is a hard concept to get initially, but with this info you will understand and love farming.
Farming cities is a great way to obtain resources. There are a lot of cities that are producing resources but are no longer maintained by their owners, however they will have a great deal of gold considering all of the other resourses have a capacity limit. These are ideal for farming regularly. Send spies to determine the cities that are the best to farm. One spy to a city is plenty. You may be surprised by the number of resources available in very low level cities. If the resources reported by your spy meet your needs, send an attack, but pay attention to any troops that may be protecting the city and if you are unable to see last login, be sure you are not starting an alliance war (unless you are ready for that).
Clairvoyance
Edit
Clairvoyance is a Research found in the Science Center. The higher the levels, the more you can see with your spies when you use them. Be careful who you spy on, though! Spying may cause wars!
| Clairvoyance Level | What You Can See With Spies |
| --- | --- |
| Level 1 | Idea of Resources, but not gold |
| Level 2 | Exact # of Resources, but not gold |
| Level 3 | Idea of Troops |
| Level 4 | Exact # of Troops |
| Level 5 | Type of Troops |
| Level 6 | Wilderness Owner |
| Level 7 | Idea of Researches levels |
| Level 8 | Exact Research levels |
| Level 9 | Exact # of Gold |
| Level 10 | Last Login time/date in GMT |
Avoiding Wars

Edit
The easiest way to do this is attack other alliances members that are inactive. Sometimes, if you're strong, you can attack active alliance members because they may be scared of you. Another way is to get your alliance and the other alliance to agree to a treaty, this may stop any wars. Other different alliance members might attack you because you let your guard down a little.
How to Spy
Edit
Send a spy to determine the city is the best to farm. You may be surprised by the number of resources available in some inactive cites. The reason you only send 1 spy is to see if the person is defending with spies. If your spy dies, then it will show how many you need to send the next time to kill all of them. The general rule is to send twice as many as they have to ensure all of theirs die. Spies do not kill each other 1:1 so you will need to send extra. 4:1 ratio is generally enough to ensure you win.
Farming Enemies
Edit
When you are farming enemies, its better to have a Lvl 10 Clairvoyance as the Last Login time in the spy report will help you to determine whether the enemy is online or not. If he/she is online, the best option is either to send a Wraith Dragon or a force strong enough to cope with heavy defense. Many people have sent weak forces comprising mostly of transports and found the enemy walled to take out the troops, even after the spy reports indicated that the target was hiding.
If you are weak, but in an alliance with powerful members, ask 3 or 4 of them to spy the target as well. This will unsettle the target and force him/her to hide. If you (and your alliance members) are not planning to ceasefire or warp or efficiently utilize the resouces, it would be better not to attack at all. The farmed resouces will be lost in the retaliatory strikes of the enemy alliance.
If you would like to add photos of people farming, make sure all of the coords are hidden or they will be deleted. Click the "Add Photo" button in the bottom right corner to add them.
GLITCH CITIES
Edit
If you attack a normal city and win, you take all resources that can fit in your army's load... you get those resources, and the enemy loses them. However, if you attack a glitch city, you get resources, but the enemy doesn't lose them. This means you could attack the same city over and over and get the same resources on every attack.
Glitch cities are inactive cities with their resources at maximum field capacities. Spy the city, take note of the resources available. Look for numbers of resources that end in "000".  If your Clairvoyance is high enough, look at the last time the city was active.  If that date is over a couple weeks ago, the city is probably abandoned and inactive.  But it's normally the resource numbers ending in "000" that is the dead giveaway. 
Calculate how many ATs you need to take all the resources, then double the amount. (Since the amount of gold doesn't show.) Then send the march in, with enough troops to kill the city's dragon (usually 15k LBM's will be enough), and enough ATs or PDs to take 2X the resources.  Spy again after your attack, and if there are still the same number of resources there, the city is a glitch city.  Now you can send attack after attack (always use the same number of troops and transports!), and collect an inexhaustible supply of resource. 
Some glitch cities only glitch 1 or 2 types of resource, others can glitch all 3 types.  And if you're very lucky, you might find one that glitches all the resource types and food, too!  
MAKE SURE your marches can take everything all at once! If not, you'll "break" the glitch and you'll have to wait for the res to build up again before you can attack it again.  A "broken" glitch will always eventually "heal" if left alone long enough.  
This page last edited
2013-05-21 10:58 (UTC)