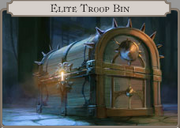 The Elite Troop Bin is a chest that gives you either 100, 500 or 1k mystery Elite troops when opened.
Note: The elite troops do not require Elite Troops Items to be obtained.
Where can you win this chest?Edit
You can win this chest in tournaments and events, often as a Testronius Depletion bonus.
How to use this chestEdit
You must have at least 1 Elite Troop Bin.
This item will then appear in your chests inventory.
Press use, then go to your arsenal to "activate" the troops.
The troops are now in your army!(Note: You may have to refresh or wait a small time, depending on browser speed, to see them.)

Page last updated: 2017-07-21 12:31 (UTC)
Ad blocker interference detected!
Wikia is a free-to-use site that makes money from advertising. We have a modified experience for viewers using ad blockers

Wikia is not accessible if you've made further modifications. Remove the custom ad blocker rule(s) and the page will load as expected.