Nightshade Dragon
Comments

64
243pages on
this wiki
The Nightshade Dragon is a dragon that was released in the Sanctuary. It is unknown if it will have an outpost, but, seeing as the other dragons that started in the sanctuary (Woolly, Psychic and others) haven't gotten new outposts, this will most likely not happen.
Currently, the Nightshade Dragon can be gained by breeding. It was also a prize in a Tournament.
The exalted version released in the Tournament 1st prize on May 15th, 2013 had:
Wraith Dragon Load Curse Ⅴ -11%
Lightning Cannon Range Curse Ⅵ -12%
Devastation Ⅴ -5%
And the heightened version released in the Tournament 2nd prize:
Soul Reaper Melee IV +4%
Storm Drake Defense IV +8%
Petrified Titan V +7% 

There are ten nightshade dragons designed by Dragons of Atlantis players available through special events. 
Ways to get this Dragon by breeding: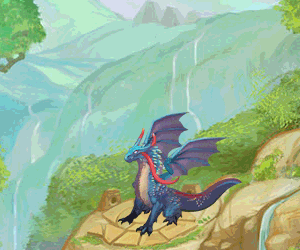 Mephitic Serpent & Water Dragon
Nightshade dragon can also occasionally be found in Fortuna's Vault during special events.
Dragon egg takes 1D 48H 53M to hatch this egg

Page last updated: 2014-07-28 22:45 (UTC)