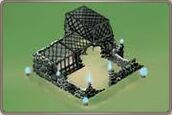 The Rookery decreases the training time of aerial troops in your city, where it is exclusively located. Upgrading the building warrants you to research higher levels of Dragonry.
The rookery is required to train Swift Strike Dragons (Level 1), Battle Dragons (Level 5), Pack Dragons (Level 10), and Sand Striders (Level 10).
A player can only have one rookery per realm.

Requirements to Upgrade and Power Boost
| | | | | | | | |
| --- | --- | --- | --- | --- | --- | --- | --- |
| Level | Food | Gold | Lumber | Ore | Stone | Time | Power |
| 1 | 1200 | 800 | 2000 | 1000 | 800 | 2m 0s | 20 |
| 2 | 2400 | 1600 | 4000 | 2000 | 1600 | 4m 11s | 20 |
| 3 | 4800 | 3200 | 8000 | 4000 | 3200 | 8m 28s | 40 |
| 4 | 9600 | 6400 | 16000 | 8000 | 6400 | 17m 9s | 80 |
| 5 | 19200 | 12800 | 32000 | 16000 | 12800 | 34m 54s | 160 |
| 6 | 38400 | 25600 | 64000 | 32000 | 25600 | 1h 10m 22s | 320 |
| 7 | 76800 | 51200 | 128000 | 64000 | 51200 | 2h 22m 30s | 640 |
| 8 | 153600 | 102400 | 256000 | 128000 | 102400 | 4h 48m 33s | 1280 |
| 9 | 307200 | 204800 | 512000 | 256000 | 204800 | 9h 44m 33s | 2560 |
| 10 | 614400 | 409600 | 1024000 | 512000 | 409600 | 19h 43m 18s | 5120 |