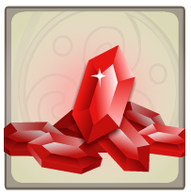 Rubies are vendor currency used to purchase game "items" to advance your city or army faster than waiting out the required cool down periods for building, training, travelling or (resource) production periods. Items that can be purchased include (but not limited to) Fortuna's Chance tickets, Resources, Nanos to aid production, Chronos (speed up boosts), Armor, Completion Grants, Ceasefire Treaties, Mass Nullifiers and Dragon Eggs. Items are purchased using the Shop button in the lower control console.
All new accounts (not new realms) start off with 10 rubies. Rubies can now be earn in small amounts through in-game promotions located on the lower right side of the screen. Rubies can be purchased through PayPal, credit/debit card, Mobile Phone or Facebook credits. Occasionally, Kabam opens contests or give-aways with prizes that normally consist of rubies or items.
Now the ruby serveys have now been taken away.
Update: As per an official communication from Dragons of Atlantis to all players, rubies are being replaced with Facebook Credits. This is because Facebook policies require all such premium currency to be in facebook Credits. The change is being rolled out to a some players, and will be extended to everyone soon.
Google+ users still use rubies as currency, which can be bought through Google Checkout.
Kongregate users still use rubies as currency, but have to be bought through Kreds. When playing via the Kabam site however, rubies are still used.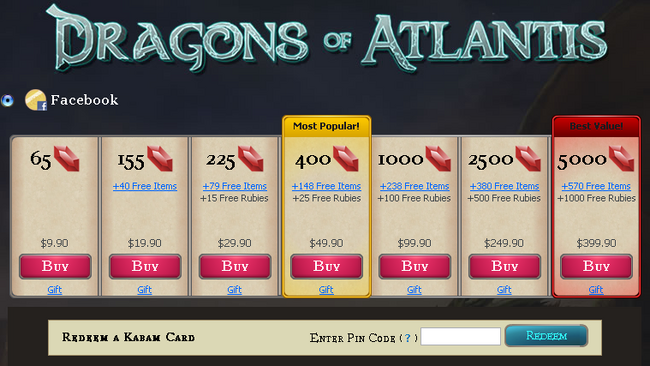 This page last edited
2013-05-22 09:09 (UTC)