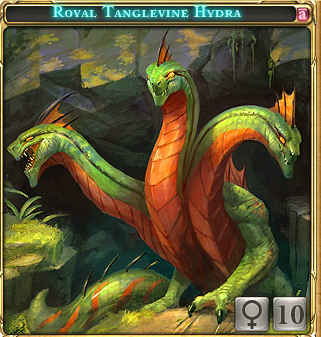 The Tanglevine Hydra is the third dragon to be released in the Sanctuary. It is unknown if it will have an outpost.  It resembles the classic greek Hydra, having three heads and a long snakelike tail.
It was released for a very limited time in a Fortuna mini game Heavenly Wheel on April 4th, 2013.
The version released in the Heavenly Wheel had:
Banshee Speed III +3%
Giant Melee II +2%
Fire Mirror Range III 0.75%  
Currently, Tanglevine Hydra can be gained by breeding.
The Exalted egg of this dragon, among others, was also included in Fortuna's Vault for a short time.
Ways to get Tanglevine HydraEdit
1.Using a Mephitic Serpent with anyother Dragon

Page last updated: 2014-08-21 04:47 (UTC)