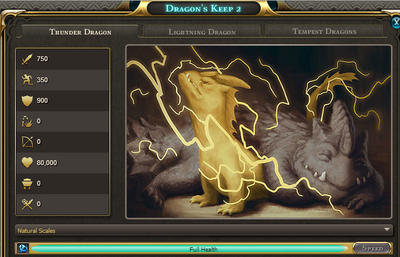 The Tempest Dragons are the guardian dragons of The Tempest Stronghold. There are two tempest dragons: The Thunder Dragon and The Lightning Dragon.
The Thunder Dragon is the melee fighter. It has no range or ranged, but has higher melee damage, life and defense than the Lightning Dragon.
The Lightning Dragon is the fastest of the two dragons, and it has a range and ranged attack.
Both Tempest Dragons hatch from the same egg, so you will only need one egg to get these dragons. Also, you do not need armor to use these dragons. The only current way of getting the egg right now is from events, like tournaments.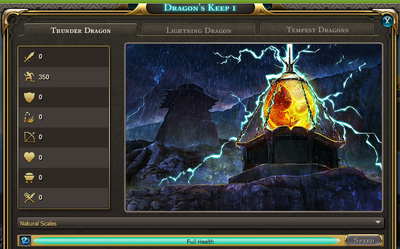 By upgrading the buildings in the Tempest Stronghold, you will increase both the stats of the Tempest Dragons and the stats of the Tempest Cabals.
When the dragons reach adulthood, level six, they can be sent on marches. You can send only one of the dragons, or both at the same time. To be able to send both tempest dragons at the same time, you need a tempest fury item. This item can be found in Fortuna's ticket. When the tempest dragons are sent on a march with the Tempest Cabals, the Tempest Cabals receive a stat boost regarding to what buildings you have upgraded in the Tempest Stronghold and regarding to what tempest dragon(s) you send in the march.
When you upgrade the Tempest Dragon keep, both the tempest dragons will grow one level. Before you have upgraded any of the buildings in The Tempest Stronghold, the stats of the Tempest Dragons are like this:
Lightning Dragon
Edit
| | | | | | | |
| --- | --- | --- | --- | --- | --- | --- |
| Level | Range | Ranged attack | Speed | Melee attack | Life | Defense |
| 1 | 2,550 | 0 | 750 | 0 | 0 | 0 |
| 2 | 2,550 | 600 | 750 | | 26,000 | 400 |
| 3 | 2,550 | 1,050 | 750 | | 53,500 | 800 |
| 4 | 2,550 | 2,100 | 750 | 1,275 | 120,000 | 1,867 |
| 5 | 2,550 | 3,450 | 900 | 2,000 | 195,000 | 3,000 |
| 6 | 2,550 | 4,800 | 900 | 2,850 | 280,000 | 4,275 |
| 7 | 2,550 | 6,300 | 900 | 3,750 | 365,000 | 5,535 |
| 8 | 2,550 | 7,800 | 1,050 | 4,600 | 453,000 | 7,335 |
| 9 | 2,550 | 9,300 | 1,050 | 5,550 | 547,000 | 8,667 |
| 10 | 2,550 | 10,950 | 1,050 | 6,750 | 640,000 | 10,750 |
| Level | Range | Ranged attack | Speed | Melee attack | Life | Defense |
Thunder Dragon
Edit
| | | | | | | |
| --- | --- | --- | --- | --- | --- | --- |
| Level | Range | Ranged attack | Speed | Melee attack | Life | Defense |
| 1 | | | | | | |
| 2 | | | | | | |
| 3 | | | | | | |
| 4 | | | | | | |
| 5 | | | | | | |
| 6 | | | | | | |
| 7 | | | | | | |
| 8 | | | | | | |
| 9 | | | | | | |
| 10 | 0 | 0 | 475 | 17500 | 1755000 | 24000 |
| Level | Range | Ranged attack | Speed | Melee attack | Life | Defense |
Tempest Dragons Combined
Edit
When The Tempest Dragons are combined, they count as one unit with these stats:
| | | | | | | |
| --- | --- | --- | --- | --- | --- | --- |
| Level | Range | Ranged attack | Speed | Melee attack | Life | Defense |
| 1 | | | | | | |
| 2 | | | | | | |
| 3 | | | | | | |
| 4 | | | | | | |
| 5 | | | | | | |
| 6 | | | | | | |
| 7 | | | | | | |
| 8 | | | | | | |
| 9 | | | | | | |
| 10 | 2550 | 10950 | 1525 | 24250 | 2395000 | 34750 |
| Level | Range | Ranged attack | Speed | Melee attack | Life | Defense |