Citizens of Atlantis,
Please read below for important information regarding a change on how to contact our Customer Support team and submit a support ticket.
To access our Customer Support panel, you will now have to click the "Help" link located directly below the Dragons of Atlantis game screen. This link will direct you to the main RockYou Dragons of Atlantis support and FAQ page. In order to submit a support ticket, first select the topic your concern, feedback or question most closely resembles or relates to. Select the "Submit a request" link below the article to then fill out the necessary fields and submit an actual ticket.
This temporary method will be the way you contact RockYou's Dragons of Atlantis support until a more permanent means of contacting our Customer Support is implemented directly into the game.
Have a question about how to submit a support ticket or how to contact our Customer Support? Head to the Dragons of Atlantis Forums to discuss everything Dragons of Atlantis!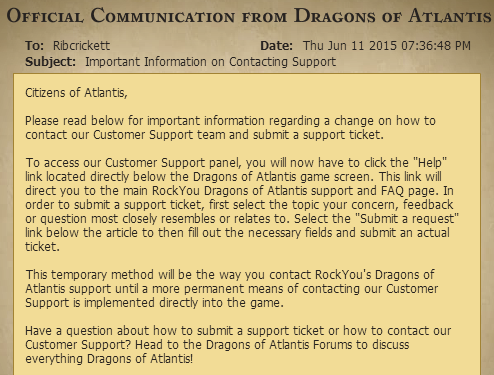 Ad blocker interference detected!
Wikia is a free-to-use site that makes money from advertising. We have a modified experience for viewers using ad blockers

Wikia is not accessible if you've made further modifications. Remove the custom ad blocker rule(s) and the page will load as expected.